Guide to using the RDA Metadata Manager
The RDA Metadata Manager is a web-based tool for performing various metadata-related activities. The Metadata Manager currently:
manages dataset-level metadata
displays keywords from the GCMD controlled vocabularies used by the RDA
manages data access control (datasets can be restricted to specific classes of users)
manages dataset Digital Object Identifiers (DOIs) (e.g. minting, supercession, etc.)
Manage datasets
This section is for managing the various aspects of RDA datasets:
"Add" and "Edit" allow you to add a new dataset and modify the dataset's metadata. This is the metadata that is used to populate a dataset's description page. Those metadata are also indexed for the RDA dataset search and "Look For Data" features that will be used the users visiting the RDA web site. "Change History" allows you to see the history of changes that have been made to the dataset's metadata.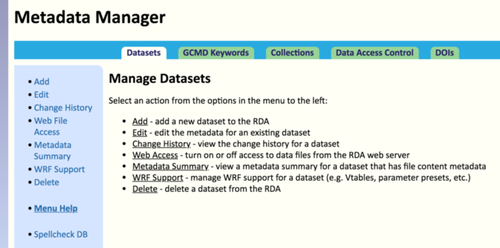 "Web File Access" allows you to toggle data user access to files that reside on centralized disk. This allows you to have files sitting on centralized disk but not be publicly-accessible.
"Metadata Summary" provides a synopsis of the metadata that has been collected from gatherxml scans of the data files in the dataset. You should check this section occasionally to make sure that metadata are up-to-date. If you see information in the summary that you don't expect, it may indicate a problem with one or more data files in the dataset.
GCMD keyword lists
This section is for viewing the Global Change Master Directory (GCMD) keyword lists used by the RDA. The table explains how each keyword list is used by the RDA. An automated process runs each night to update the GCMD keywords in the RDA database so that we are always using the most current version of the keywords.
Collections
This section is not currently implemented. It is just a placeholder.
Data access control

Digital object identifiers (DOIs)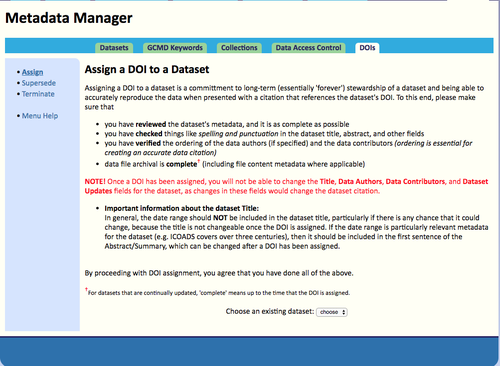 Metadata fields